Looking for a perfect set of teeth?
If one or more of your teeth is missing, cracked or badly damaged, this can seriously affect your self-confidence and lead to compromised dental health further down the line. Every day, we see images in the media of celebrities confidently presenting straight, white, perfect teeth and we want some of that for ourselves. It is human nature to want to look our best, after all. Showing what we can think of as an imperfect or blemished smile to the world can prevent us from having the courage to let go of our inhibitions and laugh and smile with impunity. This can then have a knock-on effect on our friendships, relationships and even our working life.
One highly effective way of restoring our smile and enjoying the sensation of having a perfect set of teeth is through dental implant surgery. There is a growing trend for people signing up for implant dentistry, thanks to the increasingly sophisticated and natural-looking results and the permanence of the solution of securing that perfect smile. The process really can transform the way you look, boost the way you feel and change the way you tackle life.
Why choose dental implants?
Dental implant technology is an effective, permanent solution for replacing a missing or broken tooth within a set of teeth and is fast becoming the standard option for issues such as gaps, cracks and unsightly areas within the mouth.
Implant dentistry covers a wide range of treatments, from single-tooth implant surgery to more complex cases involving multiple teeth or larger gaps that need to be filled with a combination of dental implants and other corrective oral surgery techniques. Dental implants are proven to last longer and have a much better impact on your long-term dental health than attempting to hide the gap with cosmetic veneers or opting for cheaper treatments without making yourself aware of the full facts or implications.
Dental implants are safe, highly durable and can look and feel incredibly realistic. Many patients forget they are even there most of the time. Treatment options are evolving fast, with associated anaesthetizing and sedation techniques rendering the process as painless and straightforward as possible.
Your journey will begin with a comprehensive dental implant consultation to make sure that you fully understand the implications of having a tooth implant inserted into your mouth. Your dentist will then talk you through your options for teeth implants and give you a schedule of appointments required to carry out the procedure.
What is the price of dental implants in the UK?
A question that people often ask us is what is the average price of dental implants? This can vary quite considerably, depending upon the complexity of the work you are having done, as well as the addition of any sedation options or extended treatment.
Many people are, concerned about the price of having a dental implant inserted. We can offer reassurance in the form of a flexible approach to paying for the procedure with a range of payment options available to help spread the dental implant cost. Investing in a dental implant is something that will reap rewards over the long term, as the implant can last a lifetime and ensure you perfect teeth if taken proper care of and protected from damage and unnecessary wear and tear.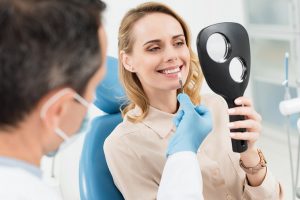 You may wish to do some online research to find out the average cost of dental implants, but please bear in mind that services can vary quite radically and you may find that prices towards the cheaper end do not always include the comprehensive dental implant surgery and after-care that our expert team can provide.
Do not scrimp on this kind of treatment, as this can result in longer-term damage, ongoing pain and discomfort and the need for additional corrective surgery to put right any problems caused by previous sub-standard implant dentistry. Your health is the most important thing you have, so make sure you invest in it properly and ensure that you make it a top spending priority.
Our prices
We offer a range of specialist implant dentistry and other treatments in our own state-of-the-art dental surgery. These include single tooth implants, multiple dental implants and other corrective procedures and cosmetic surgeries. Our expert team offer a reassuring experience, aesthetically stunning results and excellent after-care. Dental implants start from £1,800, which includes your initial dental implant consultations and the subsequent series of implant surgery sessions. You will also receive specialist support from our expert medical team every step of the way, along with ongoing after-care as required.
We are more than happy to discuss different options for paying for your dental implant or implants, including a mutually agreed payment plan to help you spread the cost. Having a dental implant is a significant decision and a sizable financial investment, so we want to help you as much as we can to make the process as comfortable, and affordable as we possibly can. Please call us and ask to speak to our financial team for further details about paying for your dental implant consultation and ongoing surgery.
How long do dental implants last?
Dental implants are a reliable, durable and proven option for replacing a tooth, or set of teeth in the longer term. Longevity of life depends upon a number of factors, including the patient's lifestyle, dietary choices, ongoing care and maintenance of the affected area and overall dental hygiene. Some pre-existing medical conditions may also have an effect on the implant's ability to settle into its new position and remain viable. Please ask your dentist if you have any concerns about any medical conditions that you may be affected by. You may also wish to consult your GP or another medical specialist for further information and support.
If a dental implant is looked after correctly, it can last up to 20 years, or even longer, making the initial investment a wise one to ensure longer-lasting cosmetic results and increased dental health. Advances in dental implant technology have made the treatment more sophisticated with far higher levels of success than ever before.
Care must be taken to look after the exposed abutment and crown to maintain viability and reduce the risk of damage occurring. Take care when chewing and remember to brush and floss adequately. Visit your dentist regularly for check-ups to ensure ongoing dental health and to make sure that no damage to the implant is left untreated.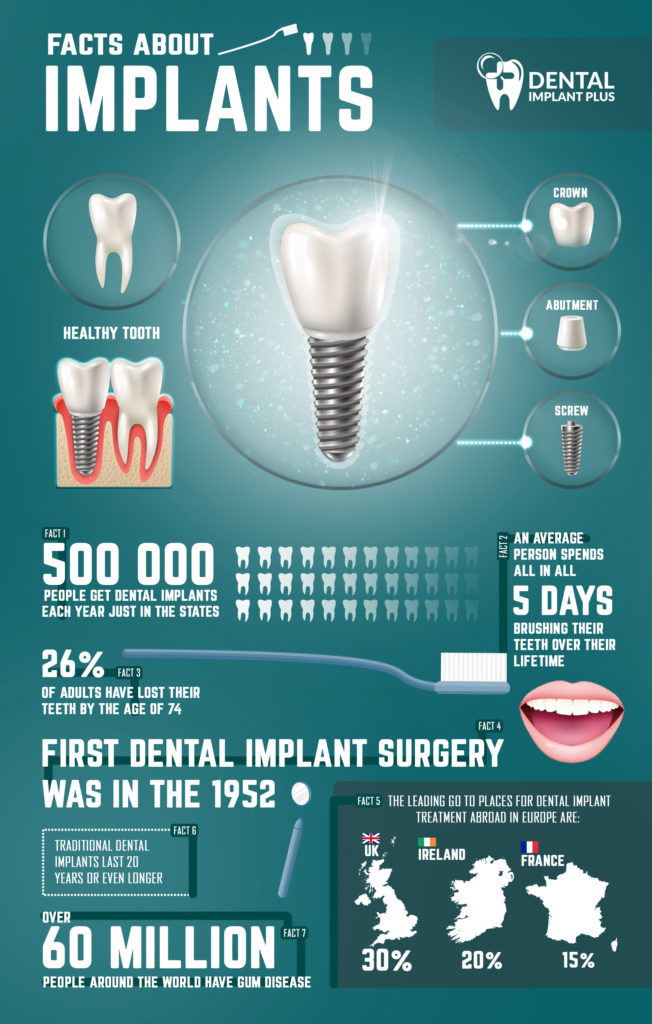 What are the benefits of a perfect set of teeth?
As well as the increased levels of confidence and self-esteem mentioned above, many dental implant patients have reported enhanced levels of success and fulfilment in other areas of their lives. New relationships, better job prospects and a better way of life have all been cited as stemming from the added assurance and zest for life that a restored smile can provide.
As well as aesthetic and lifestyle advantages, a perfect smile brings many health benefits. Gone are the gaps that can harbour bacteria and impacted food debris. Your hygienist can clean your teeth much more effectively without having to worry about adding damage to any broken teeth or causing you pain through contact with an exposed nerve or damaged tooth.
Finally, your new set of teeth will hopefully encourage you to take better care of them, establishing an effective dental hygiene routine that incorporates flossing, brushing and rinsing with an appropriate mouthwash at least twice a day. You will also be more inclined to book and attend routine check-ups to make sure that your new implants are in good working order, which can help us keep a closer eye on the rest of your teeth and to spot any problems elsewhere in your mouth while they are still in their early stages.