Multiple Dental Implants Treatment
Bridging a wider gap with our multiple dental implants treatment designed by our dental experts.
Multiple dental implants work well for patients with several teeth missing or whole rows in need of treatment. They can take the place of a full or partial denture and offer far greater stability and longer-term reliability.
The process for multiple dental implants begins with one or more titanium screws inserted into the gum tissue under local anaesthetic or IV sedation. These screws are placed in strategic positions to support multiple dental implants – sometimes one screw will support a single crown, while other situations may allow it to support a larger permanent bridge of up to four teeth in a row.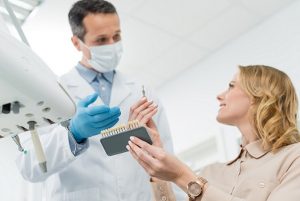 How this aspect of the dental implants treatment works will depend hugely on the number of teeth missing, the shape of the mouth and the condition of the gum, jawbone and neighbouring teeth. The time period will also depend on these factors, whether multiple dental implants can be placed in a single appointment, or whether the patient will need to return to the dental surgery several times to complete the process for their replacement tooth or teeth.
Other dental services we offer
Want to know more?
If you have a tooth gap requiring a multiple dental implant or would like to find out more about the process, please contact a member of our friendly team.