Implant-Supported Dentures Treatment in Cheadle
Fixed and firmly implant-supported dentures
Many patients seeking treatment for tooth loss or damage still prefer the option of a denture or over implant-supported dentures. We offer full implant-supported dentures fitting service, which can be combined with our cutting-edge cosmetic dentistry Manchester technology to create implant-supported dentures.
The process involves a series of titanium screws installed directly into the jawbone at carefully calculated positions to help fix the implant supported denture in place and act as sturdy, durable supports. This approach offers the flexibility of retaining a supported denture as well as added confidence during mealtimes etc. when you can be sure that your implant supported denture will remain firmly in place.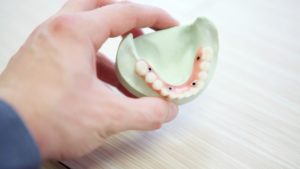 Denture implants can also help reduce any gum irritation caused by wearing a denture and help to fully restore the chewing function. Gone are the days when you must avoid tricky foods such as corn on the cob, steaks or apples. You really can have the best of both worlds with our implant supported dentures surgery treatment, carried out right here in our Manchester dental implant clinic.
Want to know more?
If you have any questions about having an implant supported dentures fitted, please contact us today or browse the FAQs below.