Same Day Teeth Implant Treatment, Cheadle
One-day dental implant treatment in Manchester
Living with an unsightly gap in one's teeth can lead to a loss of self-confidence and not being able to rely on your smile can cause lower self-esteem. When you lose a tooth, it can also cause further problems in the mouth if it is not treated quickly and professionally. At Dental Implants Plus in Manchester, we offer a same-day service that gets the ball rolling by installing a temporary dental implant in one day that not only returns your smile using provisional restoration methods but also gives you time to think about your longer-term options for dealing with the lost or damaged tooth via a permanent restoration.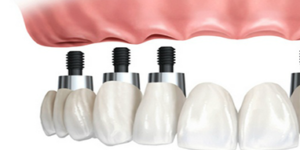 Dental implants not only restore confidence but also help patients feel happier to reveal their teeth, laugh openly and make the most of social situations. This can make you feel like your old self again and even help you meet new friends or strengthen existing relationships. So why hang around for ages when you can leave our Manchester-based surgery with a beautiful smile and enhanced appearance after just one dental implant placement appointment? Guaranteed to fix your gap on the same day.
Want to know more?
Are you interested in our same-day teeth implant service? Pick up the phone or contact us online to find out more.